Context: VCU Brandcenter Student Project
Team: Cole Farrar, Raquel Fereshetian, Elizabeth Miller
Toolkit: Figma, Adobe Creative Cloud, Final Cut Pro, Midjourney
Role: Experience Designer, UI / UX Designer, Strategist


CHALLENGE
Outdoor experience are expensive.

Outdoor experiences are expensive due to travel costs and equipment prices. Also, there is a risk of injury, which presents a barrier for those interested in adrenaline-related activities.

OPPORTUNITY
Immulate outdoor experiences.
‍
Nature is crucial for our well-being, but outdoor activities can be costly and equipment may go unused. How can we provide the outdoor experience to users at a lower cost?
SOLUTION
Partner with REI & use emerging tech.

REI Arena. A facilitiy located within an REI store that combines augmented and virtual reality to provide a realistic depiction of adrenaline related sports to connect participants with nature.
INSIGHTS
WHY PARTNER WITH REI?


REI's core purpose is to inspire, educate and outfit for a lifetime of outdoor adventure and stewardship. An already established community, REI Co-op, committed to making a connections with nature more assessible made the partnership decision seamless.

WHY AN AR/VR EXPERIENCE?

Provides an easily accessible immersive experience with clear imagery and depictions of nature at a low cost.
3D Rendering Credit: Elizabeth Miller
SPACE & CONCEPT
WHAT WE OFFER.

REI Arena is a massive indoor space that utilizes emerging technology to replicate the experiences of adrenaline aligned sports.
WHAT ACTIVIIES ARE INCLUDED?


Rockclimbing
- surrounding the entire cylindrical indoor arena.

Hang Gliding
- elevated in the middle of the Arena, take a running start into a stationary replication of the experience.

Highlining
- a great transition between acttivites if you have good balance.

Skydiving
- a wind tunnel in the middle of it all.
WHERE TO START?
GIVE THE USERS OPTIONS.

Users begin their journey by selecting which experience they would like to see through their peripherial VR and overlaid AR headset before entering into the Arena. Statistics such as difficulty, estimated time and completion score help guide participant choices.
Additionally, they choose a companion to join them on their journey with the purpose of providing narration and guidance when needed. They make these selections in the changing room of REI before entering the space.
See how long each activity will take with a responsive activity timeline at the botttom. Additionally, see other participants timelines grow to compare your timeline to theirs.
Equipment Mock-Up Credit: Mid-Journey AI
GEAR & SAFETY
BODYSUITE

Euipped with versattile clip ins in order for fluent transition in between activitties. Made from atheletic nylon fabrics to fit anyone comfortably and absorb sweat.
SMART WATCH
Worn to track partticipants heartrate and provide statistics on elevation, time, and temperature in order to elevate the experience.
HELMET
Peripheral VR Helemets, overlaid with AR clear visor goggles. Providing particpants with safety, elevated visuals to immulate nature, and sound from companions and the natural environment surrounding them.
EXPERIENCE
ACTIVITY PREVIEW.
ROCKCLIMBING
Participants are able to access hands free features that can be accessed through voice activitation and specific head movements. If participants need advice from their chosen companion they simply say that they need help, then guidance and narration will help guide them on the wall.
If a participant looks up they are able to see their elevation in relation to the peak. If a participant looks down they are able to see how much time has elapsed in their climb.
REST AREAS
Participants are asked to test their limits and exert a lot of energy in REI Arena. Rest areas provide a place for participants to catch thier breathe and connect with nature.
Feel the exhileration of looking down and preview where on the map your friends are within the Arena at the top right of your viewport.
Participants also have to option of listening to guided meditation in order to elevate relaxation in this moment.
HIGHLINING
The only feature that can be accessed during high lining is guidance and narration triggered by voice activation. This activity takes the most concentration so we wanted to be sure there is litttle to no distractions.
Combining virtual reality, overlaid augmented reality, and the screens receptive to participants gear located at the top and bottom of the Arena perfect the depth involved in this activity.
It is a perfect transition in between activities and draws heavily on the adrenaline aspect the REI Arena strives to provide.
HANG GLIDING
Participants are able to take a running start into a stationary immersive experience. Glide through the air and take in the surrounding scenary.
A feature that is encouraged to be used in this activity is the walkie talkie! Call your friends to encourage them in the activites they are in and ask them how their doing in this individualized experience.

SKYDIVING

Experience what it is like to jump out of a plane in a wind tunnel located at the center of the Arena. Surrounded with screen and overlaid augemented reality makes your jump feel real.
Look at your smart watch to check your elevation. It will vibrate when your asked to pull your shoot, as well as signage across your viewport.
Once you pull your shoot navigate above your chosen landscape and soak up the beautiful view from above the clouds.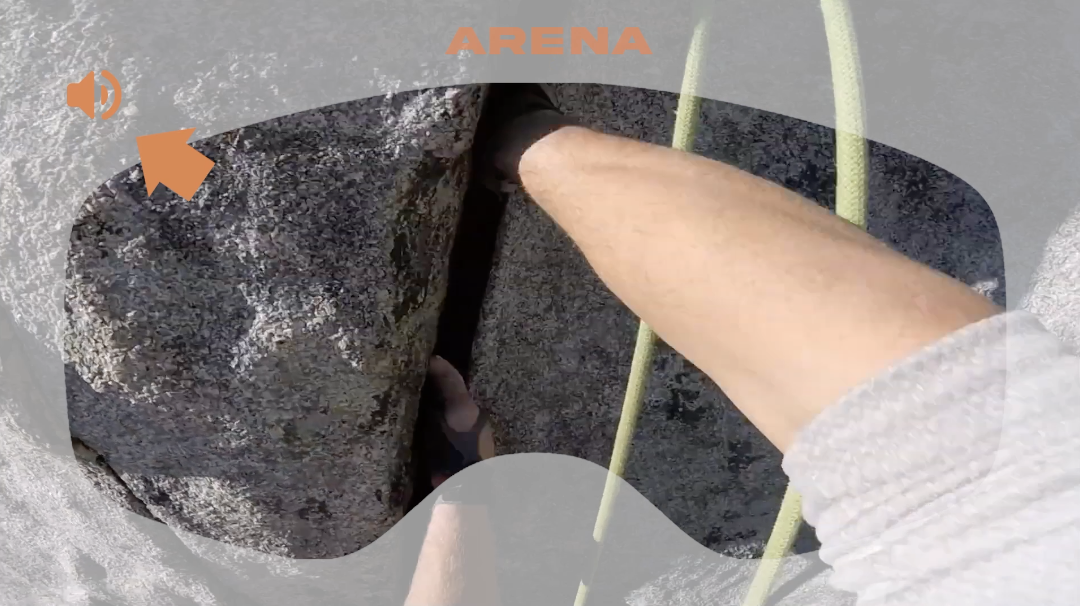 Visuals & Videos Credit: Raquel Fereshetian
EXIT & COMMUNITY SPACE
TIME TO CATCH YOUR BREATH

Participants end their REI Arena experience in an outdoor reflection and communitty area in which they are able to look over their final score. As well as captured images and highlights from their experience.
Research supported the decision to include an exit and community space as the outdoor community rely heavily on one another for support and encouragement in pushing one another to improve in different areas of life and craft.
YOUR SCORE
USER FEEDBACK

Participants will be given a tablet within the exit and community space in order to review their scores from the days activities.
While REI Arena is centered around experiencing nature in a new way it also pushes participants to the limit and challanges them to improve their skills. By providing participants with a score system they are able to compare their scores with friends, share on social media platforms, and give them a checkpoint to compare to their next visit.
NEXT STEPS
FUTURE OF REI ARENA

Align augmented reality experience with seasons.
Implement an advertising campaign extension.
Provide a variety of changing journeys.
Expand the REI Arena experience to other locations.
REI Arena plans to grow beyond the pilot location of Mechanicsburg Pensylvania and outsource across the east coast and into the west. Additionally, the Arena plans provide alternative AR/VR experiences catered to the seasons.
PROCESS & REFLECTIONS
BREAKING DOWN MY PROCESS
Having the pleasure of working on a team with three Experience Designers, we came together to make a fluent immersive experience from start to finish.
The sketches and notes to the right signify the amount of thought that went into creating REI Arena. Once the concept was complete we contirbuted our strengths in creating the experience.
My contribution laid in the UI for the beginning and ending of the experience. But, my favorite contribution was the ideation process and strategy we collectively came together to make.
MY TAKE AWAYS


Pitching an idea is a balanced practice of verbal and visual demonstation.
Putting yourself in the end-users shoes is vital in making an experience catered to them.
Running group ideas by others provides a different point of view.